Home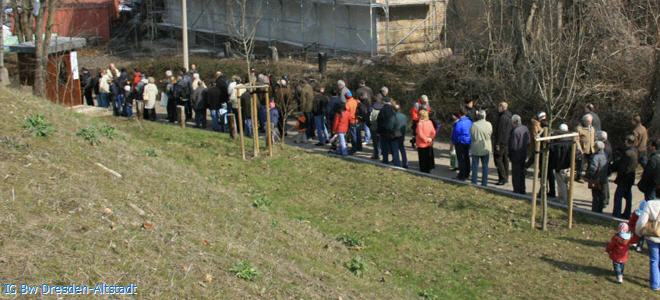 Opening hours
Our railway museum (round house below "Nossener Brücke") opens between season's opening (2019-04-12) and season's closing (2019-10-13) on many Saturdays, but not each Saturday. All opening times are listed below. Visits or guided tours are possible any other time as well, but on request only. Please do not hesitate and contact us.

Since 2017 we have offered free admission for any children until their 14th birthday (accompanied by an adult).
Our general opening hours are 10 a.m. - 4 p.m., but last entry is by 3:30 p.m. (exceptions are indicated individually).

2021


10.04.2021:

Cancelled due to Corona virus.

11.04.2021:

Cancelled due to Corona virus.

01.05.2021:

Cancelled due to Corona virus.

16.05.2021:

Cancelled due to Corona virus.

22.05.2021:


Cancelled due to Corona virus.

05.06.2021:


Planned open museum (10:00 am. - 04:00 pm.) *2 (last admission 03:30 pm.)

19.06.2021:


Planned open museum (10:00 am. - 04:00 pm.) *2 (last admission 03:30 pm.)

03.07.2021:


Planned open museum (10:00 am. - 04:00 pm.) *2 (last admission 03:30 pm.)

24.07.2021:




Dresden Museum's night (03:00 pm. - 01:00 am.) (last admission 00:30 am.)


(special admission fee: Museum's night ticket of Dresden)
07.08.2021:


Planned open museum (10:00 am. - 04:00 pm.) *2 (last admission 03:30 pm.)

28.08.2021:


Planned open museum (10:00 am. - 04:00 pm.) *2 (last admission 03:30 pm.)

11.09.2021:


Planned open museum (10:00 am. - 04:00 pm.) *2 (last admission 03:30 pm.)

12-09-2021:


Sunday:

Day of the open monument (10:00 am. - 01:00 pm.) Only opened roundhouse 1. (free admission)

25-09-2021:


Planned open museum (10:00 am. - 04:00 pm.) *2 (last admission 03:30 pm.)

08-10-2021:




13th Dresden Steam Engine Festival (10:00 am. - 06:00 pm.) *1 (last admission 05:00 pm.)


- 07:00 pm. - ca. 10:00 pm. Nightly locomotive presentation (special admission fee: 28,00 € p. p.)



09-10-2021:


13th Dresden Steam Engine Festival (10:00 am. - 06:00 pm.) *1 (last admission 05:00 pm.)


- 07:00 pm. - ca. 10:00 pm. Nightly locomotive presentation (special admission fee: 28,00 € p. p.)


- 07:00 pm. - ca. 10:00 pm. Live music event "Dampf & Dixie" (Steam & Dixie music) (special admission fee: 15,00 € p. p.)

10-10-2021:


13th Dresden Steam Engine Festival (10:00 am. - 06:00 pm.) *1 (last admission 05:00 pm.)

28-11-2021:


Sunday:

Advent in the railway museum (10:00 am. - 04:00 pm.) (free admission)





2022


(preview)

23-09-2022:

14th Dresden Steam Engine Festival

(150th anniversary of Bw Dresden-Altstadt)

24-09-2022:
14th Dresden Steam Engine Festival

(150th anniversary of Bw Dresden-Altstadt)

25-09-2022:
14th Dresden Steam Engine Festival

(150th anniversary of Bw Dresden-Altstadt)
Ticket fees 2021

*1_Steam engine festival


*2

_

Opening day with special event

*3

_

Saison's Closing
Adults

(also pensioners)

18.00 €

4.00 €

6.00 €

Reduced price


(pupils, students, trainees, and owners of "Dresden-Pass")

10.00 €

3.00 €

4.00 €

Children

(until their 14th birthday, only accompanied by an adult)

free admission

free admission


free admission