13th Dresden Steam Engine Festival October 08th - 10th, 2021
On this site we will publish all information about the festival, the corresponding special steam trains and the surrounding program, as soon as they are fix set up.

Information about the Corona virus and the 13th Steam Engine Festival 2021
The actual situation allows such major events like our Steam festival. At the moment there are some Covid-19 based constraints. Admission to festival ground is allowed for people with full immunisation (e.g. double vaccination certificate or a certificate of complete recovery in combination with a single vaccine certificate). By now admission is also possible having an official negative Covid 19 test certificate, not older than 24 hours. Checking the certificates may take a while at the cash counter. Thanks for understanding! Tracking addresses is required. We are a registered location in "LUCA app" and "Pass4All app", usable on smart phones. Not registered visitors must fill out a form for address tracking at our cash counter.
The need for full immunisation, recovery in combination with vaccination or negative test certificate is required for train passengers in touristic trains as well!
Information about the ticket pre-sale
We want to keep up with the time and use the restrictions due to the Corona pandemic to fulfill the wish of many guests: We change our ticket system to electronic tickets. After ticket purchase we will send a QR code, which must be shown when entering the festival ground or in the special steam trains. This code can be printed or simply shown on a smartphone. As a result, there is no more shipping fee or needed time for international shipping. You can pay using bank transfer or paypal and you will get your tickets early enough prior to the festival attached to an email.
For admission to the festival ground you need the name and address of the ticket purchaser for validation at the cash counter!

Find here: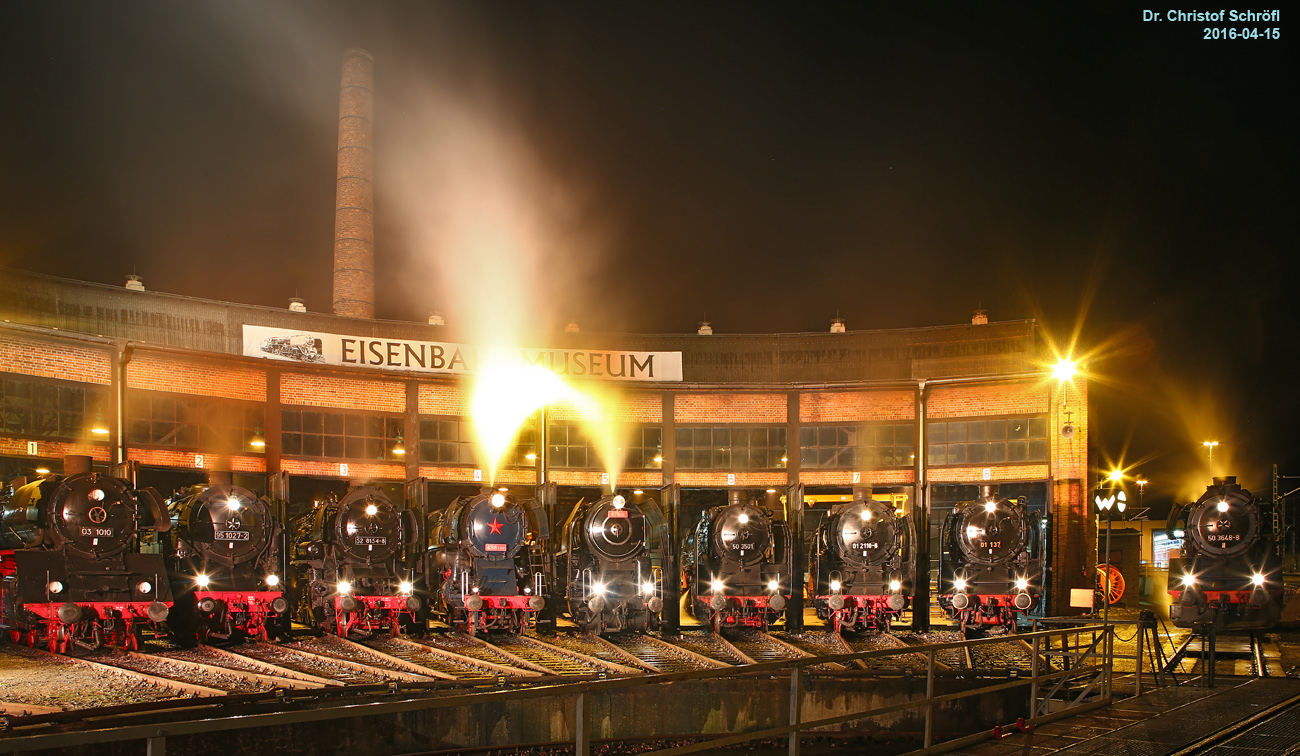 (State of planning September, 25th 2021)

General information
The Dresdner Dampfloktreffen has established its place among railway and steam galas in Saxony for many years. Vintage trains from various regions of Germany as well as from neighbouring countries intend to approach Dresden, for their travellers and rolling stock to attend this gala. Similar to previous years, we intend to have illuminated evening photo sessions (Friday and Saturday) and a live music concert "Steam & Dixie" (Saturday night). An attractive programme of half-day and full-day excursion trains will be offered. We cordially welcome you as our travelling guests, in addition to "feel" the atmosphere in our depot.
Tickets to the museums grounds are of course valid for the festival area at Zwickauer Straße. Furthermore, they allow single-entry to Verkehrsmuseum Dresden "Johanneum" at Neumarkt (close to Frauenkirche) at one of the three days of the festival. It is up to you to attend Zwickauer Straße and Johanneum at the same day or to split the visit to two individual days within the timeframe of April 09 to 11.
Why we don't simply move the cancelled 12th Steam Engine Festival into 2021
The 12th Dresden Steam Engine Festival had to be cancelled due to the restrictions, issued by the local authoroties, connected to the distribution of Corona virus "Covid-19". To move the date into 2021 is not possible, e.g. some of the planned steam locomotives cannot participate next year. The reasons are diverse. Some of them need a new general inspection, which takes longer than the remaining time to the next festival is. The concluded contracts with guest loco partners have to be re-newed and the special train program must be adapted to the circumstances next year. Construction plans can prevent us from using a track and so on.
For this reasons we decided to continue numbering of our festivals and to held the 13th steam festival in 2021.
Planned special steam trains and guest locomotives
We have invited the following six steam locomotives: 01 202, 35 1097, 50 3610, 50 3648, 52 8141 and the Czech 434.2186. Beside them there will also be historic Diesel and electrical locomotives.
Attention! A ride in our special steam trains is possible for full vaccinated, recovered+vaccinated or official negative tested visitors only!

Friday, Oct, 08th 2021
Saturday, Oct, 09th 2021
Sunday, Oct, 10th 2021
Important information about the nightly locomotive photo presentation
Until a short while before the beginning of our festival, there will be no valid information about the Corona based restrictions along the nightly locomotive presentation on our turntable. We decided not to sell any tickets for the photo events in ticket pre-sale this year. All tickets for the evening photo event will be available at the evening cash counter. We still do not know how many of the 200 seats we can offer, or if there will be a need of masks or a mininmum distance between photografers. As soon as we will have these information, they will be published here. Thanks for your understanding!
"Dampf & Dixie" (Steam and Dixie music) - The live music event
There will be our live music event "Dampf & Dixie" in the roundhouse on Saturday night (Oct 9th) as usual. We will publish further information about the Dixie music bands and framework conditions for admission here, soon.
Information in German are also available on the special >>> website of "Dampf und Dixie" <<<.
Here we will offer tickets in our webshop
Further information about the festival ground and program
The historic bus shuttle between Dresden main station and the festival ground will be available as usual. The association friends of historic busses will offer that service again.
Unfortunately the field train between the Depot of Dresden Transport Museum and the railway museum won't be available this year. The sidewalk will be used for the one-way pathes for our guests.
The Dresden Transport Museum wants to be part of our festival again. They will open their sheds along the street Zwickauer Strasse as usual. At the moment there are constructions right beside that area on the railway track. Due to this there might be reduced places for exhibits on the sliding stage area. When available, further information will follow here.
Along street Zwickauer Straße there will be our seller's area with railway-based offers. Around the entrance to the railway museum there will be the food and catering area as usual.
Partners to the 13th Dresden Steam Engine Festival