Home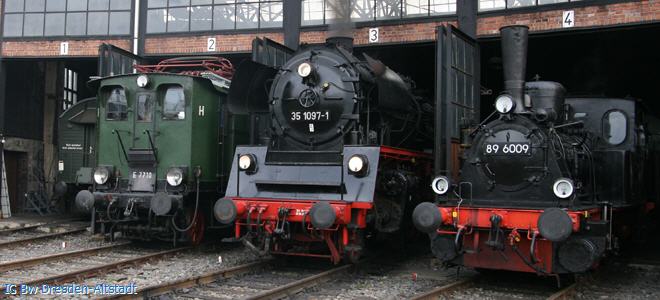 The main inspection of the electric locomotive E 77 10 was conducted in Meiningen, Thuringia/Germany, from late autum 2012 until late autumn 2013. On Thursday, December 19th, 2013, the historical electric locomotive E 44 044 basd in Dessau, Saxony-Anhalt/Germany, conveyed E 77 10 back to Dresden. Several residual treatments had to be accomplished in this place such as, e.g., revision and computational updates of train radio telegraphy and the security system "Indusi". All activities were finished perfectly in time up until early April 2014. And just few days prior to our 6th Dresdner steam locomotive convention the official documents were issued. Ever since, E 77 10 is in working condition as a historic electric locomotive.
Overall, we had to invest more than 80,000 Euros. This enormous amount of money was paid by previous donations on the whole and large - but quite a significant part had to be taken from the general savings of our club. To ensure continuous expenditures to maintain the state as an "active" historic locomotive as well as to re-finance the club's expenditures we are still happy to receive monetary support. So please do not hesitate to support us and provide a donation focussed on E 77 10. Thank you for your kind understanding!
Bank account for donations:
Owner: Interessengemeinschaft Bw.
Headword: E 77 10
IBAN: DE41 8306 5408 0004 1328 66
BIC: GENODEF1SLR
Bank: Deutsche Skatbank (VR-Bank Altenburger Land eG)
Further information:
- Technical portriat of the locomotive E 77 10